Effective Small-Scale Stream Restoration Techniques
Wednesday March 22 – 1:30 to 2:00 p.m.
Hall F
ABSTRACT
Ontario Streams is a registered environmental charity dedicated to the protection and rehabilitation of streams and wetlands, through education and community action. Established in 1995, we have worked closely with numerous communities, conservation organizations, and landowners to develop lasting partnerships environmental stewardship. With over 26 years of environmental restoration experience, Ontario Streams continues to demonstrate leadership in freshwater ecosystem rehabilitation through our impactful conservation projects and programs.
Our most significant work to date has taken place in Southern Ontario, particularly in the Greater Toronto Area (GTA) where the ever-increasing rates of urbanization have resulted in a dire need for rehabilitation. Our priority is on restoring streams and wetlands through on-the-ground work, including in-stream habitat enhancement, native tree and shrub planting, and garbage cleanups. We developed the Ontario's Stream Rehabilitation Manual which outlines bioengineering techniques to restore stream function and habitat.
This presentation will highlight Ontario Streams' methods for effectively improving cold-water streams in the GTA. We prioritize using techniques that mimic natural channel design to ensure impactful and long-lasting enhancement of the habitat. We invite you to learn more about stream rehabilitation and how to develop your own projects to protect and restore these sensitive ecosystems.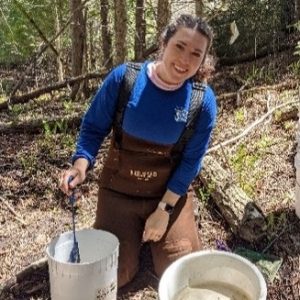 Kat Lucas, Ontario Streams
Kat (she/her) graduated from the University of Guelph with a Bachelor of Science, Zoology and a Master of Environmental Science with a focus on aquatic toxicology and fish reproduction. She recently completed a Certificate of Community Development, Engagement, and Leadership from Toronto Metropolitan University. As the Outreach and Communications Coordinator at Ontario Streams, Kat supports stream restoration projects and connects community members with stewardship opportunities.