TRIECA 2020 WEBINAR SERIES
Application of Geotextiles in Civil Engineering
ABSTRACT
Geotextiles are one of the most versatile geosynthetic in civil engineering applications. They are used to reinforce vertical and steep banks of soil, ground applications such as temporary and permanent roads and highways, ground drains, filter, and erosion prevention applications.
This presentation will provide a review of the four basic functions of geotextiles and the corresponding design criteria that are most critical to consider for those specific applications.
In addition, a discussion of the various classes of projects that will benefit from use of geotextiles will be included.
A sample of local case studies utilizing diverse applications will be presented to demonstrate the most commonly used and recommended practices.
Learning Objectives
1. Learn about function, application, and design criteria for geotextiles.
2. Understand the benefits of using geotextiles in civil engineering applications.
3. Learn about best practices and local case study projects.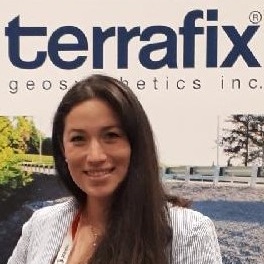 Isabel Perez
Isabel Perez is a Product Manager of Subgrade Improvement at Terrafix Geosynthetics.
This role gives her the opportunity to be involved in the design stage up to project completion. Her contributions include delivering value engineering designs, addressing site challenges, and providing technical assistance, tests, and site visits.
Isabel graduated from URBE University in Venezuela in 2006 as an industrial engineer, and has worked for more than 10 years in civil engineering, supporting a wide variety of infrastructure projects in Venezuela, Spain, and Canada.