The Poplar River Story: Changing the Fate of One of Minnesota's Outstanding Natural Resources
ABSTRACT
For more than a decade, local partners and state agencies in Minnesota have been battling the "Mega Slump" — a 700-foot-long, 100-foot-tall red clay monster responsible for a dramatic reduction in water quality and loss of in-stream habitat on the Poplar River.
In 2004, the stream was placed on the Minnesota Impaired Waters List – a list you don't want to be on!
A rugged northeastern Minnesota trout stream emptying to Lake Superior, the Poplar River was choked by tons of sediment sloughing from the banks of the "Mega Slump". Efforts to tackle the problem focused on protecting and restoring the stream's natural meander, directing it away from the slumping hillside.
The result has been an impressive 300-ton reduction in the sediment load to the river every year — enough to bring it back in line with acceptable standards, and take it off the Impaired Waters List.
Minnesota is a leader in protecting and restoring our receiving waters in the Land of 10,000 Lakes, but the waters that we have been able to de-list are still few in number.
This presentation will tell the story of a community coming together to make a huge difference in the health and well-being of one of our outstanding natural resources.
Learning Objectives
1. Learn the concepts of the USEPA Clean Water Act and the impacts of water quality impairments
2. Understand the concepts of toe protection using bendway weirs
3. Reflect on a very successful community effort leading to the de-listing of a designated trout stream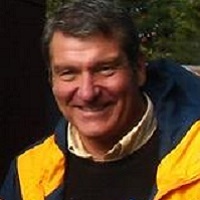 Jay Michels
Jay Michels, CPESC, is a partner and project manager with Emmons & Olivier Resources in Oakdale, MN. He has more than 30 years of experience in construction management, erosion control and stormwater management.
The emphasis of his work is in LID design and implementation, ordinance/by-law and stormwater policy and program development, and outreach and education.
Jay is known for his work throughout the upper Midwest and Canada as an educator on LID, stormwater management and erosion and sediment control.