Combined Field and Laboratory Evaluation of the Performance of Multiple Bioretention Systems in Retaining Phosphorus in Urban Stormwater
ABSTRACT
The performance of bioretention systems in reducing phosphorus loads in urban stormwater can be variable. One approach for improving phosphorus retention is to add a water treatment residual (WTR) as an amendment to the bioretention soil media. However, phosphorus retention in bioretention systems in cold climate regions is complicated due to factors including high inputs of winter road de-icing salts.
The objective of this study was to evaluate the impact of prolonged and periodic high salt inputs on phosphorus retention in bioretention media with and without an aluminum WTR amendment added. Laboratory columns were conducted using three bioretention media (with and without WTR amendment) exposed to artificial stormwater with periodically high salt concentrations. All columns with non-amended media showed a net phosphorus release, whereas columns with WTR-amended bioretention media showed net phosphorus retention. Although some non-amended columns showed greater phosphorus release during prolonged exposure to high salt stormwater, the largest phosphorus release for all columns occurred during the freshening period following the switch from high salt to low salt stormwater influent. In the field, it is expected this large phosphorus release may occur in early spring when road salts are no longer applied. This study provides important insights needed to improve the year-round performance of bioretention systems in cold climates.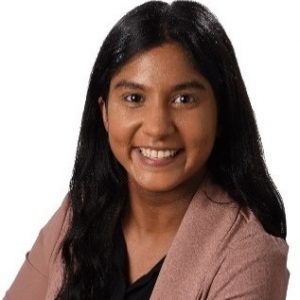 Amanda Pinto, C.F. Crozier and Associates
Amanda Pinto is a Water Resources Engineering Intern at C.F. Crozier and Associates. Since joining the team in 2018 after earning her Bachelors in Engineering from the University of Guelph, she has worked on a variety of projects including the design of servicing, grading and stormwater management for residential, institutional and commercial developments in the Greater Toronto Area.
This experience has given her the opportunity to develop her project management skills and relationships with internal and external project teams. Amanda also supports the company's research collaboration with various universities in Ontario to improve our understanding of stormwater management. In 2022, Amanda was awarded the Young Alumni Award of Honor from the University of Guelph and the Sterling Engineering Intern Award from Professional Engineers Ontario.