PLANTing for Success! School Rain Garden Design
Thursday March 23 – 9:00 to 9:30 a.m.
Hall A
ABSTRACT
Distilling rain garden planting design to the key features to be considered for the greatest success will be the focus of this presentation, gathered from designing and installing eight rain gardens at schools in the Credit Valley Watershed, as part of the Students for Stormwater project (CVC).
This presentation will discuss the importance of considering the existing soil conditions, and how this informs the design objectives and planting design. It will discuss the benefits of utilizing a naturalized, low maintenance planting design, with a focus on native plants and planning for increased habitat for pollinators. It will also explore some of the social factors of rain garden design in the context of schools. Lessons learned from the construction of the rain gardens will be touched on.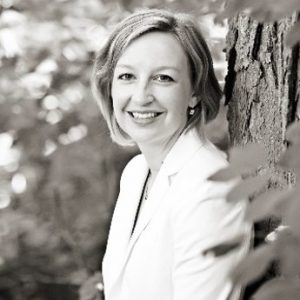 Amy Lejcar, Into the Woods Landscape Architecture & Arboriculture
Amy Lejcar (Bennewies) OALA, CSLA, ISA, M.Plan, Landscape Architect and Certified Arborist. Amy is the owner of INTO THE WOODS, a consulting company specializing in Landscape Architecture and Arboriculture, with an emphasis on environmental services. Founded in 2011, areas of expertise include ecological restoration, wetland and natural channel design, streetscape and highway design, LID design, graphic design, park design, as well as tree inventory and preservation plans.
Amy brings over sixteen years of consulting experience working on multidisciplinary projects. Her business philosophy is to provide quality work while maintaining a high standard for professional ethics and a unique design vision. She always considers climate change adaptation strategies, and sustainability in her design approach. Amy enjoys building team relationships and working with others to advance environmental stewardship on any design project.