Green Infrastructure Initiatives in Thunder Bay – A Northern Approach
ABSTRACT
Like many Cities in Ontario, and throughout North America, Thunder Bay has a history of flooding. However, the frequency of the flooding seems to be increasing given past unchecked urbanization compounded with climate change and the higher frequency of more intense storms.
While Thunder Bay is quite isolated from "southern Ontario," being that we are almost 1,400 km away from Toronto, we are still in the same province and subject to the same Ministry requirements.
This presentation will provide a brief overview of: (i) our historical flooding, as well as our most recent events in May 2012 where a State of Emergency was declared, and other large, but more localized events in 2008 and 2016; (ii) an overview of the City's stormwater management plan, including green infrastructure; (iii) how our SWM Plan has assisted us in successfully obtaining numerous third party funds; (iv) how and where we have been implementing green infrastructure generally, with a focus on our largest facility; (v) construction lessons learned, our design process (and things to keep in mind), and inspection & maintenance lessons learned; and (vi) public engagement & education.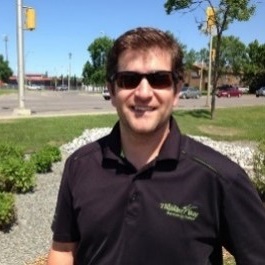 Aaron Ward, City of Thunder Bay
Aaron is a Professional Engineer with over 20-years experience. After graduating from McMaster University, he worked in the private sector in southern Ontario, primarily on land development and stormwater projects. He joined the public sector in 2012 as a Project Engineer for the City of Thunder Bay. He currently oversees development projects in the City and is heavily involved in the implementation of the City's 2016 Stormwater Management Plan.