An Economical Approach to ESC: Observations from my first year as a CISEC
ABSTRACT
An erosion and sediment control plan should be an essential part of the site planning process and must be followed through proper inspection and maintenance to effectively mitigate erosion and sedimentation concerns. Large construction projects involve significant land disturbances that typically result in increased rates of erosion and sedimentation. Planning to mitigate this impact must be proactive and integrated.
Two key areas of proactive planning for surface erosion protection and sediment control include completing assessments of soils and conducting overview hydrology assessments of potential surface runoff. This information can be used to identify areas of higher risk for erosion and sediment generation and can be used to design an effective erosion and sediment control plan that avoids or minimizes development of such areas where possible.
As a result, the necessity for costly erosion control measures can be minimized if the site can be better adapted to existing conditions and good conservation principles are applied. This presentation provides a perspective of a more economic approach for planning, developing, and implementing effective best management practices for surface erosion protection and sediment control.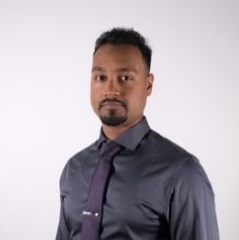 Michael Dhanraj, Stantec
Michael is a Restoration Technician with Stantec consulting Ltd. His main project focuses are in the areas of stream restoration and beneficial re-use alternatives for contaminated soils and sediment. He has completed several courses and achieve various certifications that enable him to apply protocols and methodologies in conducting complex studies and site inspections.