From Highway to Urban Plaza: A Case Study for Sustainable Design
ABSTRACT
This project, which is the entrance to the downtown area, demonstrates the transformation from a car-centric site to a people-centric site. It offers a variety of activities and places to understand the history of the site (with interpretive panels) and presents a picture of what Montreal is: a vibrant and diverse city.
A playground area is located to the north, near a bordering preschool, with different spaces along the way towards the south that can accommodate small or large gatherings around ping‐pong tables, or around the outdoor exercise area, or the food truck section for the lunch and weekend crowd.
A playground area is located to the north, near a bordering preschool. There are different spaces that can accommodate small or large gatherings around ping‐pong tables, an outdoor exercise area, or the food‐truck area.
Additionally, there is a large open space that runs the length of the site with monumental sculptures at each end. Seeing residents, workers and tourists alike exploring the different spaces and views of the city confirms that urban space can have an important impact on human health and well‐being.
The project focuses on improvement of biomass and reduction of the heat island effect, with 276 trees and thousands of shrubs and perennials and grass covering almost half of the entire space. The canopy index has been doubled to 27% and will help sequester 4 metric tons of CO2 in the first year alone, and more than 310 tons over the next 30 years.
Plant selection features mostly native plants (53%) and requires no ongoing irrigation. Grassed areas, rain gardens and planting beds on the sidewalks have been designed to receive runoff from adjacent impervious surfaces and to manage rainfall events on site, with 86% of stormwater features visible to site users.
Here again, the trees play a major role; they will intercept more than 310 m3 of rainfall in the first year alone, and 29,000 m3 over the next 30 years, adding to the rain gardens and absorbent landscape capacity, and significantly reducing the amount of water otherwise directed to the municipal sewer system by retaining above the 85th percentile of rain events.
Planning a public space on a former highway also required a detailed approach to soil management and protection of the small amount of vegetation and healthy soil present on site (conserving 87% of existing) and preparing the site to restore disturbed soils. The demolition of the elevated infrastructure was the first step, with 100% of the on-site generated construction and demolition waste diverted from landfill.
A detailed soil rehabilitation phase followed to prepare for the new landscape, reusing as much of the soil on site as possible.
Learning Objectives
1. Demonstration of how to maximize infiltration of stormwater runoff on site without the use of underground detention basins
2. Demonstration of how trees can add volume retention to stormwater management on site
3. Connecting green infrastructures to opportunities for health and well-being benefits for the site users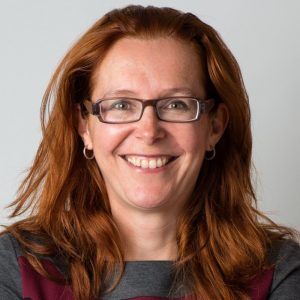 Melanie Glorieux
Melanie Glorieux is a landscape architect with more than 20 years of experience planning streetscapes and parks, in private and public settings.
In 2010 she received her Master's degree in Environmental Engineering, focusing on stormwater management with an emphasis on the integration of bioretention cells in the urban space.
Her experience in landscape architecture has allowed her to develop an expertise in masterplan designs that integrate sustainable stormwater management and construction techniques in an urban context. Promoting an integrated and holistic design approach, she has worked on a variety of projects where professionals in civil and electrical engineering, architecture and urbanism collaborate at all levels.
Her professional and academic experience gives her a perspective that allows her to combine client, user and designer needs in the creation of an integrated and sustainable urban landscape project.
Melanie has participated in a number of technical guides for the landscape industry, as well as a provincial stormwater design guide and the upcoming CSA Bioretention Design standard.
In 2016, she became the first Canadian professional to achieve SITES AP accreditation, and was able to implement this approach on this project.