Establishing Permanent Vegetation in Urban Green Infrastructure
ABSTRACT
Vegetation is an integral part of many stormwater best management practices (BMPs). Plants aid in the functioning of BMPs such as bioretention / rain gardens and their survival is critical to the long term health and functionality of these systems. In addition, plants help improve physical and mental well-being and are a tool for improving quality of life and safety in urban environments.
The City of Minneapolis has developed two typical stormwater BMPs for implementation across the city: Green Stormwater Infrastructure (aka rain gardens) and Sustainable Landscaping. Both of these BMPs include permanent vegetation as an essential component. EOR has been working closely with the City of Minneapolis to develop standard plans and practices for successfully planting and maintaining a variety of vegetation types within green infrastructure facilities in this highly urban setting.
The speaker will discuss the history and necessity of the city's green infrastructure program, early challenges in getting plants established in GI, and the essential elements for successfully establishing vegetation within green infrastructure facilities including: (i) type of material to plant, (ii) method of planting, (iii) initial maintenance period, (iv) long term maintenance, and (v) public outreach. In addition, presenters will discuss opportunities for collaboration with residents in the implementation of green infrastructure, and methods and tools for doing outreach before, during, and after planting takes place.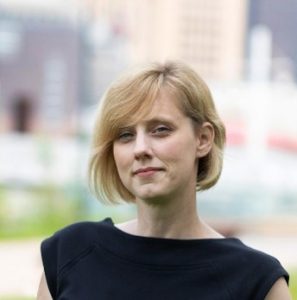 Britta Hansen, Emmons & Olivier Resources
Britta Hansen is a Landscape Architect with over a decade of experience planning and designing public spaces, recreational areas, school campuses, and green stormwater infrastructure. She earned her Master of Landscape Architecture degree from the University of Texas at Austin and is a partner/owner at Emmons & Olivier Resources in St. Paul, Minnesota.