Emerging Technologies of Blue-Green Infrastructure and Low Impact Development for Stormwater Management
ABSTRACT
Climate change and urbanization progressively reveal cities' vulnerability to controlling increased surface runoff. As the importance of stormwater management increases in retrofitting existing urban areas, new and novel blue-green infrastructure (BGI) and low impact development (LID) technologies are continually being developed.
This presentation documents the performance monitoring carried out on several systems, including 1) farmed and unproductive blue-green roofs, 2) blue roofs, and 3) a dome concrete forming system (DCFS) implemented within a road over 2020 and 2021 in the City of Toronto. These three systems aim to mimic the natural hydrology and maximize the capture, infiltration, or evapotranspiration from stormwater runoff on rooftops and roadways.
Findings indicate that blue and blue-green roofs could significantly reduce stormwater runoff and peak flows compared to traditional green roofs. However, their design variables, including substrate type and thickness, drainage layer thickness and orifice size, and planting and harvesting activities, impact their hydrologic performance. The DCFS, installed on impermeable soils, performed impressively by substantially reducing runoff volumes and peak flows compared to the well-known permeable pavement. The findings assist in developing design guidelines for these new BGI and LID systems for stormwater management and other benefits such as microclimate improvement.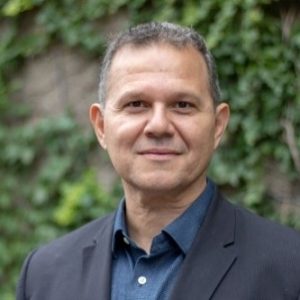 Darko Joksimovic, Toronto Metropolitan University
Dr. Darko Joksimovic is a tenured associate professor in the Civil Engineering department at Toronto Metropolitan University, where he joined upon the completion of BEng (Ryerson), MASc (University of Toronto) and PhD (University of Exeter) degrees. He has been working in the area of water resources engineering for more than 20 years, as a consulting engineer, researcher and academic. His consulting experience was in developing and implementing sewerage systems models, drainage master planning studies and developing wastewater collection and treatment modelling tools. He has conducted research on distributed hydrologic models using remote sensing data for evaluation of Low Impact Development (LID) stormwater practices, evaluation of watershed impacts of LID implementation, and evaluation of constructed LIDs using both monitoring data analysis.